CHE Hockey

GOBBLE GOBBLE CUP
November 23-25, 2018
Thanksgiving Weekend Tournament in Burlington, Vermont

Squirt/Atom, Peewee, Bantam AA, BB, A, B, House Select, Town Teams – Minor, Major and Mixed Divisions

Play your games at the Cairns Twin Rinks. All games under one roof and only 10 minutes from the DoubleTree by Hilton Hotel. Close to restaurants, shopping and more. Games begin Friday afternoon.
Our Burlington all-inclusive package includes:
4 game guarantee with International competition - USA Hockey Sanctioned
First class Accommodations at the Sheraton Hotel
2 breakfasts at the hotel

Coach or manager goes free *based on the 30 people on the package

Plus many more features

Since 1987 CHE has taken pride in divisional placement to ensure fair competition.
Our full time professional staff located in four offices across North America is experienced and excited to serve all your tournament needs and answer questions. We communicate with the team managers on a regular basis regarding their league levels and standings to ensure teams are categorized properly.

Phone: 1-800-461-2161 or 1-888- WON-1980
Website: www.chehockey.com email: goals@chehockey.com
NO FREE LISTINGS AT THIS TIME.

PLEASE CHECK BACK SOON.
HockeyTournaments.com Main Page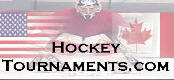 2019 HockeyTournaments.com disclaimer:
This site contains listings for tournaments and services which have been submitted by email, fax, or other forms of communication. Though we will post all information in good faith, we will not be held liable for any cancellations of tournaments or false information submitted. Please notify the webmaster with any questions or concerns you may have with a particular listing of a tournament or service. webmaster@icehog.com
site by: IceHog Inc.